The work we do at Apply Digital has impacts that ripple out well beyond one project or client. Delivering innovative solutions that truly benefit those who will use them is what we strive to do in all aspects of our work, locally and globally. Our pro-bono projects make that even more possible, as we support local businesses and non-profits.
And those projects strengthen the backbone of our company: the people. Enabling our team to work on meaningful solutions brings us closer together and amplifies the connection we have to our communities. As an organization, Apply Digital is always looking to empower profound opportunities for our team, our clients' customers, and the world.
Driving change for cancer research
Since 1952, The Princess Margaret Cancer Centre has been working tirelessly on groundbreaking research and improving standards for cancer care. And as a non-profit that relies on fundraising, they depend on their donation branch, Princess Margaret Cancer Foundation (The PMCF), to provide the crucial funds for their work.
But with many of their fundraising events affected by the pandemic, the PMCF needed to pivot their digital strategy and adapt their efforts to reach potential donors. So when they reached out to us, we were there to help.
Donating over 7,000 hours of work, our team developed donor personas, spoke with stakeholders, and collaborated closely alongside The PMCF to ensure that their content matched the personal and inspirational energy their site needed. Achieving the balance between emotional connection, key research articles, and calls to donate was essential.
We delivered a solution that fosters growth and illustrates the impact that a donor's dollars has on cancer research through compelling and informative content. The PMCF's page engagement has increased 3.5 times since launching, indicating that their human-centered stories are capturing people's attention — a major win for their team. And by adding clear content to better answer visitors' questions, the Contact Us page views have drastically decreased. From 31,000 page views in 2020 to only 12,000 in 2021, this immense reduction means fewer misdirected inbound calls that congest their phone line, allowing The PMCF to thoroughly assist those who reach out.
Cancer touches everyone, including us at Apply Digital. And with this new website, The PMCF can amplify their fundraising work, bolster their research, and continue the vital work they do every day to conquer cancer. We were honored to be part of The PMCF's story.
Healthy foods, hardy strategies
While our work to support The PMCF's efforts transforms the world at large, striving to create a local impact is just as important. Our partnership with the Vancouver Farmers Market (VFM) allows us to look closer to home as we strive to make a difference.
Founded in 1995, the VFM is one of Canada's leading farmers' market organizations. Although they were deemed an essential service, their markets were greatly impacted by COVID-19 health and safety regulations. Physical distancing, space limitations, and many avoiding crowds influenced the attendance numbers and compromised the survival of some vendors' businesses. The VFM needed a fresh idea to generate revenue and support the 250+ farmers and producers that sell their goods at the markets.
Through our involvement with the VFM's advisory committee, we brought our team on board to brainstorm ideas. We knew the solution would need to strengthen their business model's resilience and introduce the benefits of buying locally to a new audience. The favorite idea? An employee benefits program.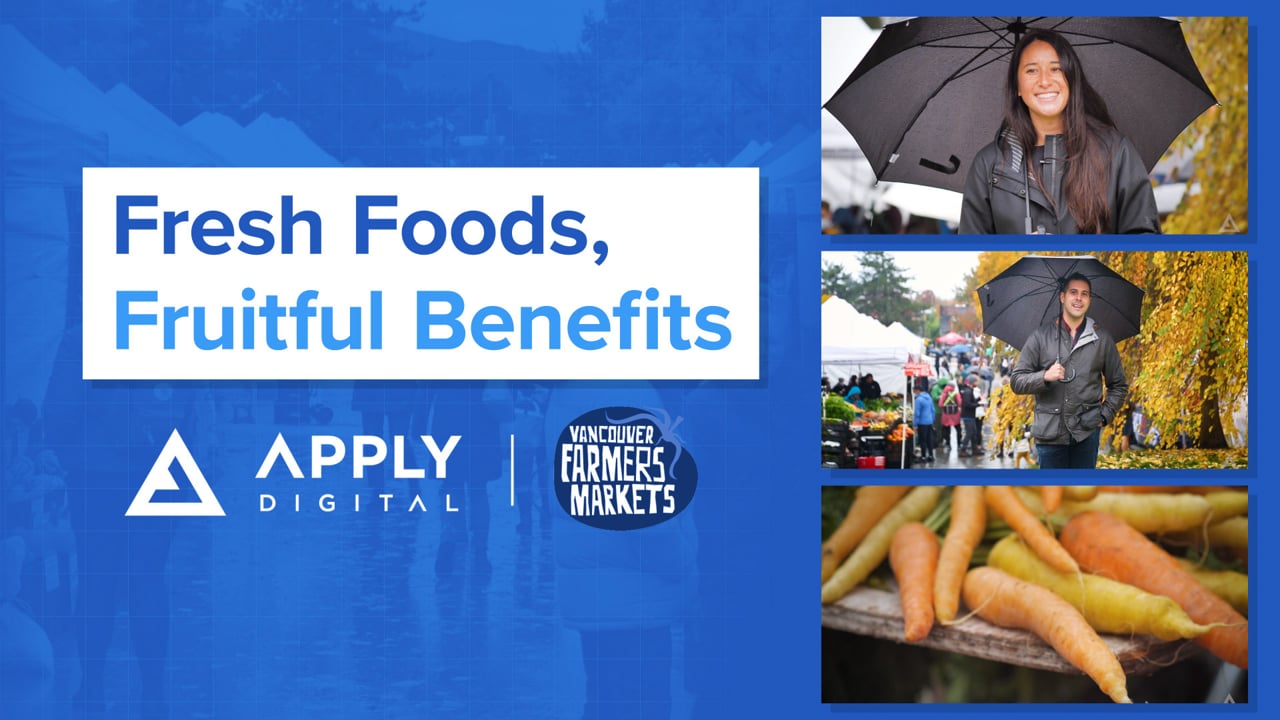 Apply Digital and VFM's Partnership
This membership is rewarding for everyone involved. Companies can offer a unique benefit to their employees while supporting local businesses, and employees will get access to healthy food for themselves and their families. And those who choose to can donate the value of their membership to VFM's charity, Fresh to Families, which provides fresh food to families with low-income, newly arrived refugees, and at-risk expectant mothers.
Just like Apply Digital, the VFM is all about people, from visitors to vendors to the neighborhoods they support. This employee benefits program will encourage more people to buy locally, shop sustainably, and give back to the place they call home.
And it doesn't end there
No matter how much Apply Digital grows as a company, we will always find ways to contribute our skills to the communities we work and live in — this is something that will never change. We look forward to continuing this work in future projects, and we can't wait to see what's next.
If you're aspiring to create transformative solutions that will benefit your customers — and your community — let's talk. Contact us at hello@applydigital.com.